The Australian Road Rules require all motor bike riders and any pillion or sidecar passengers to wear an approved motor bike helmet.
There are three motor bike helmet standards approved for use in South Australia. All motor bike helmets worn on public roads must comply with one of the three standards and bear a relevant certification mark:
AS 1698-1988; or
AS/NZS 1698:2006; or
ECE 22.05
Examples of a helmet that is in good repair and proper working order and condition are:
A helmet that is scratched or marked but the scratch or mark has not

Penetrated the helmet's outer shell; or
Damaged the helmet's retention system; or
damaged the helmet's inner lining.

A helmet that is damaged to a degree that might reasonably be expected from the normal use of the helmet.
Full-face helmets offer better face and eye protection than open-face helmets. Around half of all impacts to the head in motorcycle crashes occur to the face. Full-face helmets also offer better wind and sun protection.
Helmet accessories
All approved helmet standards contain information regarding the attachment of accessories to the helmet.
For AS 1698-1988 and AS/NZS 1698:2006 compliant helmets, as indicated in the standard, no attachments should be made to the helmet except those recommended by the helmet manufacturer.
For ECE 22.05 compliant helmets, no component or device may be fitted to or incorporated in the protective helmet unless it is designed in such a way that it will not cause injury and that, when it is fitted to or incorporated in the protective helmet, the helmet still complies with the requirements of this standard.
Motor bike riders must refer to the instructions for their particular make and model of helmet to determine the suitability for attachments.
Riders should note that cameras and other accessories are only able to be fitted to a motor bike helmet when approved by the helmet's manufacturer. This means that if the manufacturer of a particular helmet does not allow for after-market accessories in their instructions or specifications, then accessories cannot be attached to the motor bike helmet. This is not a matter of whether the helmet is in good repair and proper working order and condition; it is about whether the helmet continues to comply with the standards requirements of regulation 51 of the Road Traffic (Miscellaneous) Regulations 2014 at point of sale and at any later time.
Helmet markings
All helmets must be marked to show that they comply with the relevant Australian Standard or ECE 22.05. For helmets that comply with ECE 22.05, the helmet must bear a label displaying an international approval mark. The label may, for example, appear as a sticker on the outside of the helmet or as a label sewn into the retention system of the helmet.
The mark will be in the form of a circle surrounding the letter "E", followed by the distinguishing number of the country that has granted approval. The number to the right of the "E" may vary from one model of helmet to another.
Examples of ECE standard marks are shown below.

or
An example of an Australian standards conformance mark is shown below.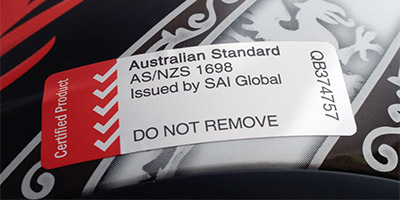 Choosing a helmet
Helmets range in price and construction, so spend time choosing the best protection, the best fit and most comfortable style for you. For more information on helmets, including protection and comfort ratings, visit the Consumer Rating and Safety of Helmets website http://www.crash.org.au/ .
Never buy a second hand helmet. You won't know how it has been treated. It may have damage you can't see.
Types of helmets
You can choose between:
full-face or flip-up styles, which have a chin bar to cover the lower face and jaw, or
open face helmet which leaves your face exposed so there is no protection for the chin and jaw. Many open face helmets offer no eye protection, so you could get hit in the eye by a rock or large bug causing injury or a loss of control; even rain can cause pain and difficulty in seeing clearly.
Helmet fit
Fit your helmet carefully by following these steps:
with the helmet on, place your hands on the sides of the helmet and move it around - you should feel your skin move with the helmet;
then move your head from side to side; the helmet should move with you without feeling loose on your head; and
finally, wear the helmet for a few minutes to make sure it's comfortable.
Gloves, boots, jacket and pants
Don't forget to wear other protective gear. In the event of a motorcycle crash, in addition to your head hitting something, it's not unusual for hands, elbows, knees and feet to strike the bitumen or other hazards. Wearing protective clothing reduces your risk of serious injury. More information about protective clothing can be found in the Good Gear Guide.
https://infrastructure.gov.au/roads/safety/publications/2009/pdf/good_gear_guide_nrsc.pdf