10 Year Delivery Strategy
The South Australian Government is working with the Australian Government to see the fully upgraded non-stop North-South Corridor completed within the next 10 years and are working collaboratively in a planned and coordinated way to build upon the significant amount of planning work that has already been undertaken.
A Scoping Report has been prepared on how to effectively invest, resource and implement a fully upgraded non-stop North-South Corridor as a whole-of-corridor program of works. It provides an aspirational framework to guide future investment and implementation strategies, driven by open communication and engagement of stakeholders, community and government.

A copy of the Scoping Report (PDF 5MB) is available for download which provides a background to the Strategy.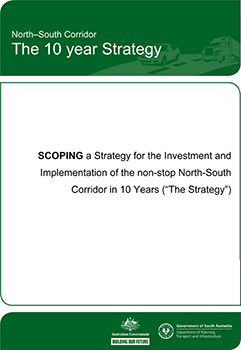 The Scoping Report is a high level technical document that discusses options on how to deliver the Corridor, based upon the following early planning studies:
The current level of planning has not determined the final alignment or footprint of the Corridor, as the preliminary concepts developed to date only help identify high level cost estimates, risk identification and indicative impacts (e.g. order of magnitude property costs, social impacts, environmental impacts, impacts on utility services). The final alignment and footprint of the Corridor is subject to change as concept planning progresses. Once funding is secured for individual projects, the development of final designs will provide further details on the project impacts (e.g. acquisition requirements).
Since the initial release of the Scoping Report in May 2015, joint funding from the South Australian and Australian Governments has been secured for the delivery of the Northern Connector, and identified construction cost savings on the Torrens Road to River Torrens Project and Darlington Upgrade Project have also enabled scope extensions for both these projects.
The Australian and South Australian Governments are continuing discussions to determine how best to fund the remaining unfunded of the North-South Corridor.
Contact us
If you would like more information, please email northsouthcorridor@sa.gov.au or call 1300 951 145.