Victor Harbor Road Duplication
About the project
---
The Australian Government has announced $73.6 million in funding for the duplication of Victor Harbor Road, between Main South Road and Main Road, McLaren Vale. In addition, the South Australian Government has committed $18.4 million to the project, bringing the total project funding to $92 million.
The McLaren Vale region and outer southern suburbs have seen notable growth in recent years and caters to significant tourism activity primarily related to the iconic wine region and associated viticulture and agriculture industries.
The section of Victor Harbor Road between Main South Road and Main Street, McLaren Vale, currently carries an average of approximately 25,000 vehicles per day, of which approximately 6% are commercial vehicles. Traffic has grown by an approximate annual average of 3% since 2011 and is expected to increase. From 2015 until 2019, inclusive, there were 24 casualty crashes.
Traffic volumes and crash history between Main South Road and Main Road, McLaren Vale has reached a point where duplication of the road to dual carriageway is necessary to alleviate traffic delays and safety issues.
The duplication will:
improve travel times
improve safety
accommodate future growth
improve economic productivity.
Major works are planned to start in 2021/22.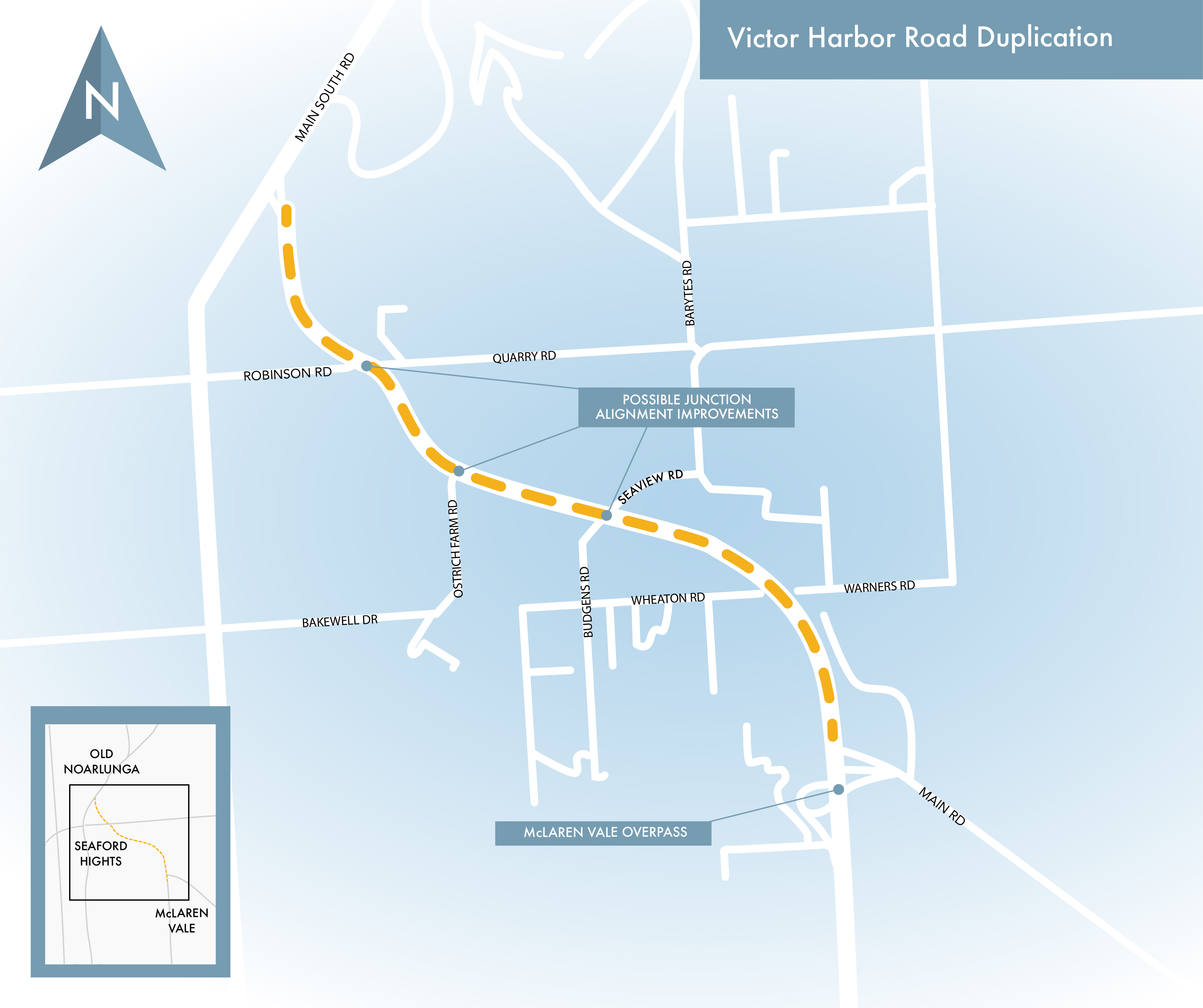 DIT COVID-19 Response
The Department will continue to tailor community engagement opportunities in line with the latest COVID-19 advice from health authorities.
Face-to-face engagement opportunities may be restricted and we will continue to be guided by the advice of health authorities, with the health and safety of our stakeholders always our highest priority.
Engagement with community and industry is crucial and we will facilitate information sessions as much as possible to enable face to face engagement. It is important to assist in managing these events that you register as requested to enable physical distancing as much as possible.
What's next?
We have received valuable feedback from community and business owners from engagement undertaken during the planning study. This feedback has been provided to our engineering and design team for consideration as the preferred concept is developed.

Investigation works to inform the development of a design are ongoing and include;
-Collection of topographical data by an aerial drone, utilising light detection and ranging (lidar), flying parallel to the road corridor to minimise distraction to drivers. The drone will avoid flying over private residences.
-Location of underground services utilising targeted pot holing methods.
- Geotechnical drilling, and
-Flora and fauna assessments along the road corridor.

If access is required to any property, we will contact residents or business owners to obtain their permission.

Once these investigations have been completed and a preferred concept design has been determined, the Department will provide information about the outcomes of the study and the preferred design.
Further information
If you have any further enquiries or would like to register your interest in the project to receive updates, please:
---