Safety Upgrades on Eight Country Roads
About the project
The Australian and South Australian Governments have announced $70 million in funding towards safety upgrades on eight country roads to facilitate the reinstatement of the 110km/h speed limit.
This commitment, $56 million from the Australian Government and $14 million from the State Government, is part of the $1.115 billion funding announced in the 2019-20 State Budget for regional roads and infrastructure.
Regional roads are crucial to building and connecting strong communities and growing regional economies.
The South Australian Government is committed to ensuring the efficient movement of vehicles throughout our regions without reducing safety.
Reduced travel time for people and freight is beneficial to economic growth. These upgrades will enable the reinstatement of the 110km/h speed limit without increasing the risk of casualty crashes.
Upgrades will occur on the following roads:
Goyder Highway (Crystal Brook to Gulnare)
Clay Wells Road (Southern Ports Highway to Callendale Road)
Riddoch Highway (Mount Gambier to Port MacDonnell)
Carpenter Rocks Road (Burrungule Road to Mount Gambier)
Ngarkat Highway (Pinnaroo to Bordertown)
Browns Well Highway (Loxton to Pinnaroo)
Cleve Road (Cleve to Kimba)
Andamooka Road (Andamooka to Olympic Dam).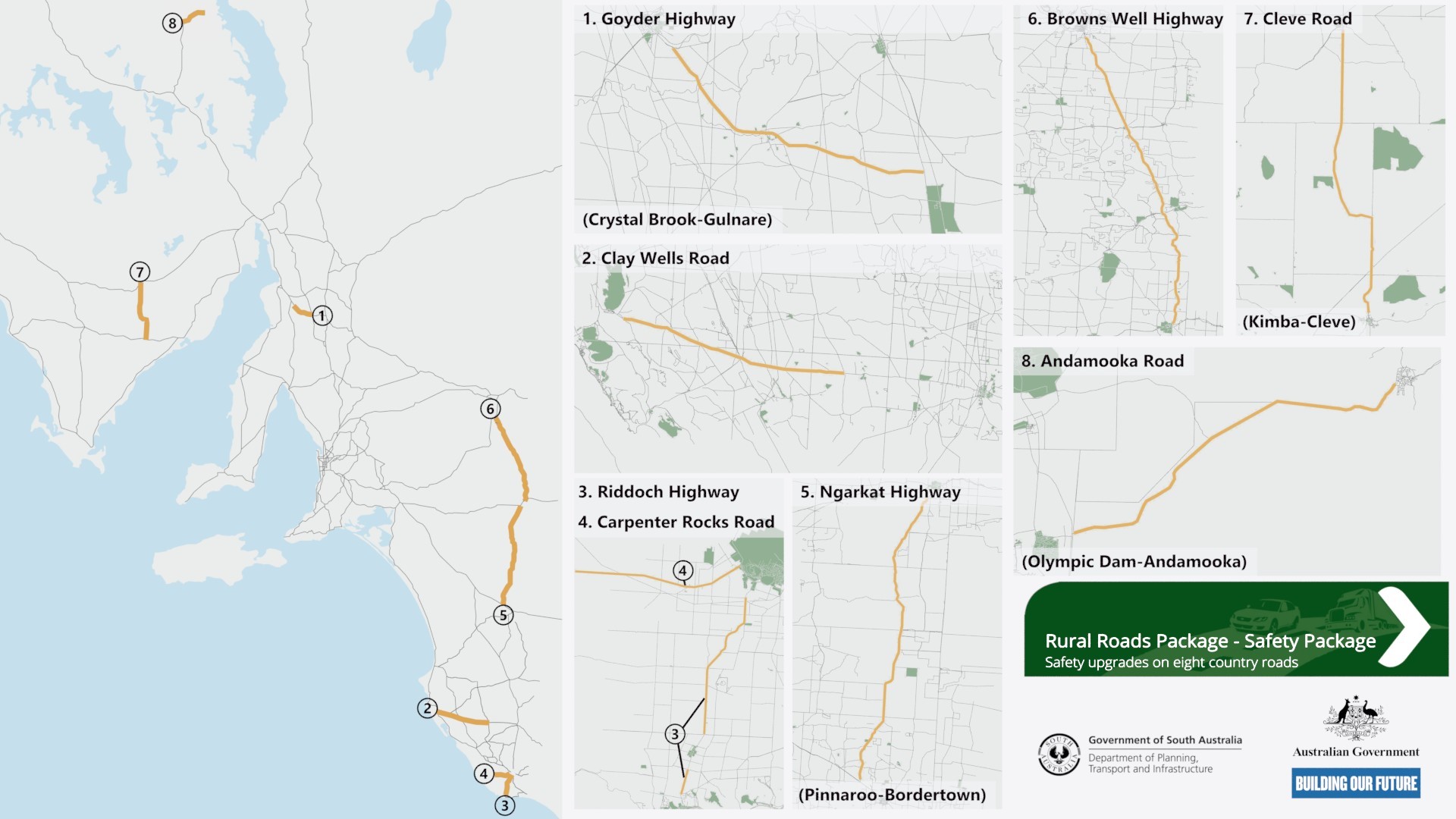 Works delivered under this initiative will include:
shoulder sealing and roadside hazard protection or removal to reduce the risk and severity of "run-off road" type crashes
pavement works to improve ride quality
improvements such as line marking and signage and, on higher traffic volume roads, includes a wide centre line treatment, intersection upgrade and Audio Tactile Line Marking.
Timeframes
Planning and design works are underway on all projects.
The full program of road safety upgrades will be delivered over a two year period and will be completed in 2021.
Once the required safety upgrades are complete, it is anticipated that speed limits will be increased as follows:
Goyder Highway – complete and speed limit raised to 110kmph
Carpenter Rocks Road – complete and speed limit raised to 110kmph
Andamooka Road – complete and speed limit raised to 110kmph
Cleve Road – complete and speed limit raised to 110kmph
Clay Wells Road – in the first quarter of 2021
Riddoch Highway – in the first quarter of 2021
Browns Well Highway – in the second quarter of 2021
Ngarkat Highway – during 2021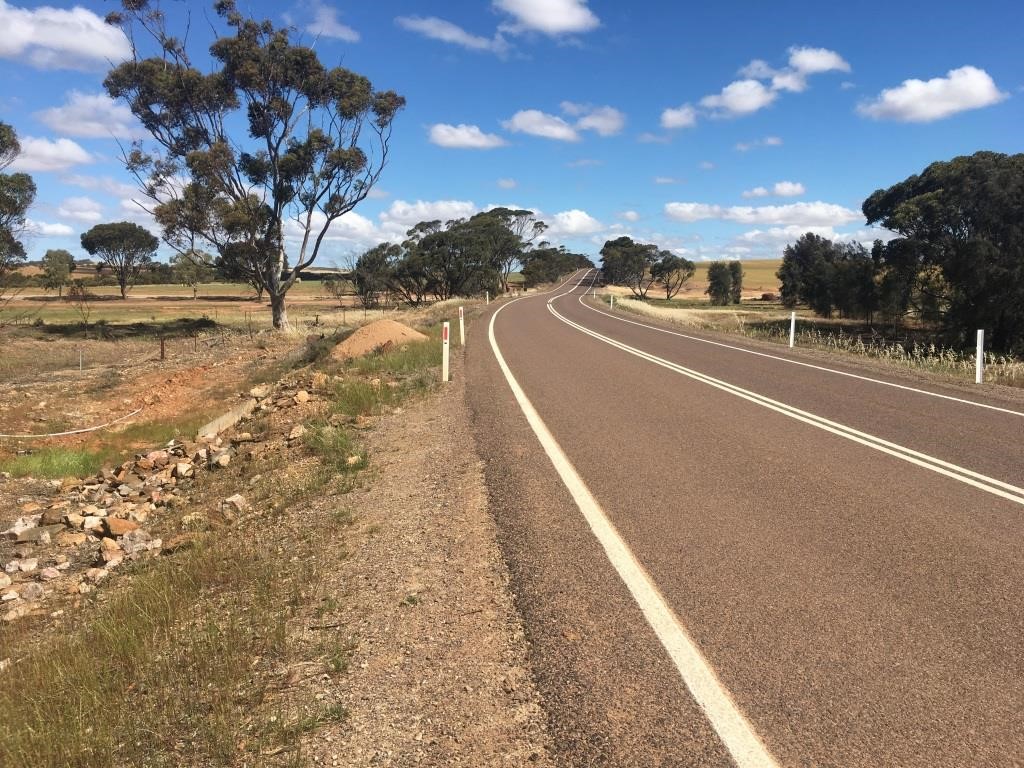 Image: Cleve Road narrow road shoulder to be sealed
COVID-19 Response
The Department will continue to tailor community engagement opportunities in line with the latest COVID-19 advice from health authorities.
Face-to-face engagement opportunities may be restricted and we will continue to be guided by the advice of health authorities, with the health and safety of our stakeholders always our highest priority.
Engagement with community and industry is crucial and we will facilitate information sessions as much as possible to enable face to face engagement. It is important to assist in managing these events that you register as requested to enable physical distancing as much as possible.
Further information
If you have any questions about these projects, please:
email: dit.communityrelations@sa.gov.au
telephone: 1300 794 880, or
write to: GPO Box 1533, Adelaide SA 5001.