Mitcham Hills Road Corridor Upgrade
About the infrastructure program
The Australian and South Australian Governments have together committed funding to undertake a number of projects to improve the Mitcham hills road corridor.
The package of infrastructure upgrades, which will be delivered over a four year period between 2018/19 and 2021/22, focus on improving road safety and efficiency. The overall package includes the upgrade to the Blackwood Roundabout, completed in April 2019, which improved road safety, traffic flow and pedestrian access.
The Australian Government has committed $20 million towards an upgrade of Old Belair Road, with a focus on improving safety and transport efficiency at its junction with James Road.
The State Government will plan, design and construct priority infrastructure that addresses issues identified in the Road Management Plan (RMP) for Main Road and Shepherds Hill Road, Blackwood, and has committed $20 million to:
improve safety and operation at the junction of Main Road and Russell Street
improve safety and traffic flow at the intersection of Shepherds Hill Road, Brighton Parade and Waite Street
upgrade lighting along key sections of the corridor.
Funding in this package was also used to complete a feasibility study into a road bypass at Craigburn Farm, completed in June 2019. The report is available at the City of Mitcham website.
What's next?
A contract has been awarded to SMEC to undertake planning and design works, including investigating upgrade options at the following junctions within the project area:
Old Belair Road and James Road
Main Road and Russell Street
Shepherds Hill Road, Brighton Parade and Waite Street.
Community and stakeholder engagement forms an important part of this upgrade and as planning progresses consultation with land owners, businesses and residents will occur to help inform the preferred concept and design.
Concept planning and traffic modelling will be completed in 2020.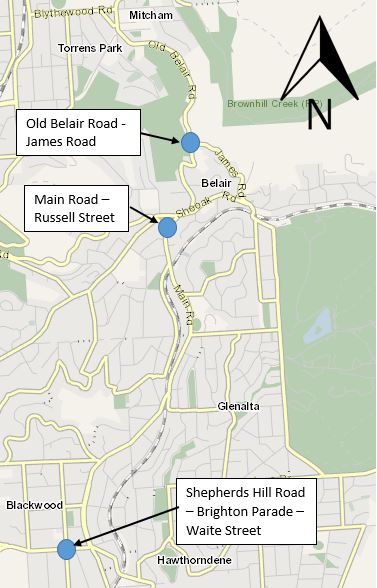 Further information
If you have any further enquiries or would like to register your interest to receive updates, please: