Main South Road Duplication
About the project
The State Government funded duplication of Main South Road between Seaford and Sellicks Beach aims to improve road safety as well as improve traffic flow and increase capacity.
The duplication will be delivered in two stages:
Stage 1: The State Government will invest $305 million for Stage 1 which will involve the duplication of approximately 10 kilometres of Main South Road from south of Griffiths Drive in Seaford to Aldinga. This will include the duplication of the Pedler Creek Bridge at Seaford Rise.
Stage 2 (unfunded) will continue duplication of Main South Road for approximately six kilometres from Aldinga to Sellicks Beach.
The 2018-19 State Budget included $2 million in 2018-19 of a total project cost of $305 million for the duplication project to progress planning and procurement for of the project.
Why is this happening?
Main South Road now has an average traffic count of 18,000 vehicles per day with these volumes expected to grow with several future housing, commercial and education developments in the area, including a future Super School at Aldinga.
In years 2012-2016, 237 crashes have occurred between, and including, Robinson Road and Sellicks Beach Road, of which 98 were casualty crashes. This equates to 19.6 casualty crashes per year. There have been two fatal crashes.
Main South Road runs from Old Noarlunga to Cape Jervis and is one of the main traffic corridors to the Fleurieu Peninsula.
It is predominantly a two- lane, two-way road traversing rural and semi-urban environments, providing access to southern coastal communities and Kangaroo Island.
This road carries significant traffic between Adelaide and the tourist centres to the south and is a major commuter route for the rapidly expanding residential area of Aldinga.
An increase in traffic volume presents an increasing road safety risk and longer delays for motorists, and safety for motorists and cyclists will be improved by duplicating Main South Road. The duplication will make travelling to, from and within Adelaide's south safer and easier.
The duplication will assist tourism growth in the southern region by making the Fleurieu Peninsula and its wine regions, walking trails, restaurants and southern beaches more accessible, providing for more economic development opportunities.
Planning Study
A planning study has now commenced for Stages 1 and 2, which will further identify issues and opportunities along the corridor, determine possible solutions that address the issues and opportunities, and develop a concept design from the recommended solution.
Direct engagement with the community will be a strong focus through the planning and delivery for this project.
Planning for Stages 1 and 2 will be complete in mid to late 2019. Construction of Stage 1 has an anticipated completion in 2022.
What will it cost
$305 million has been allocated for Stage 1 of the project. This includes $2M for a planning study for Stages 1 and 2. Stage 2 of the project is unfunded.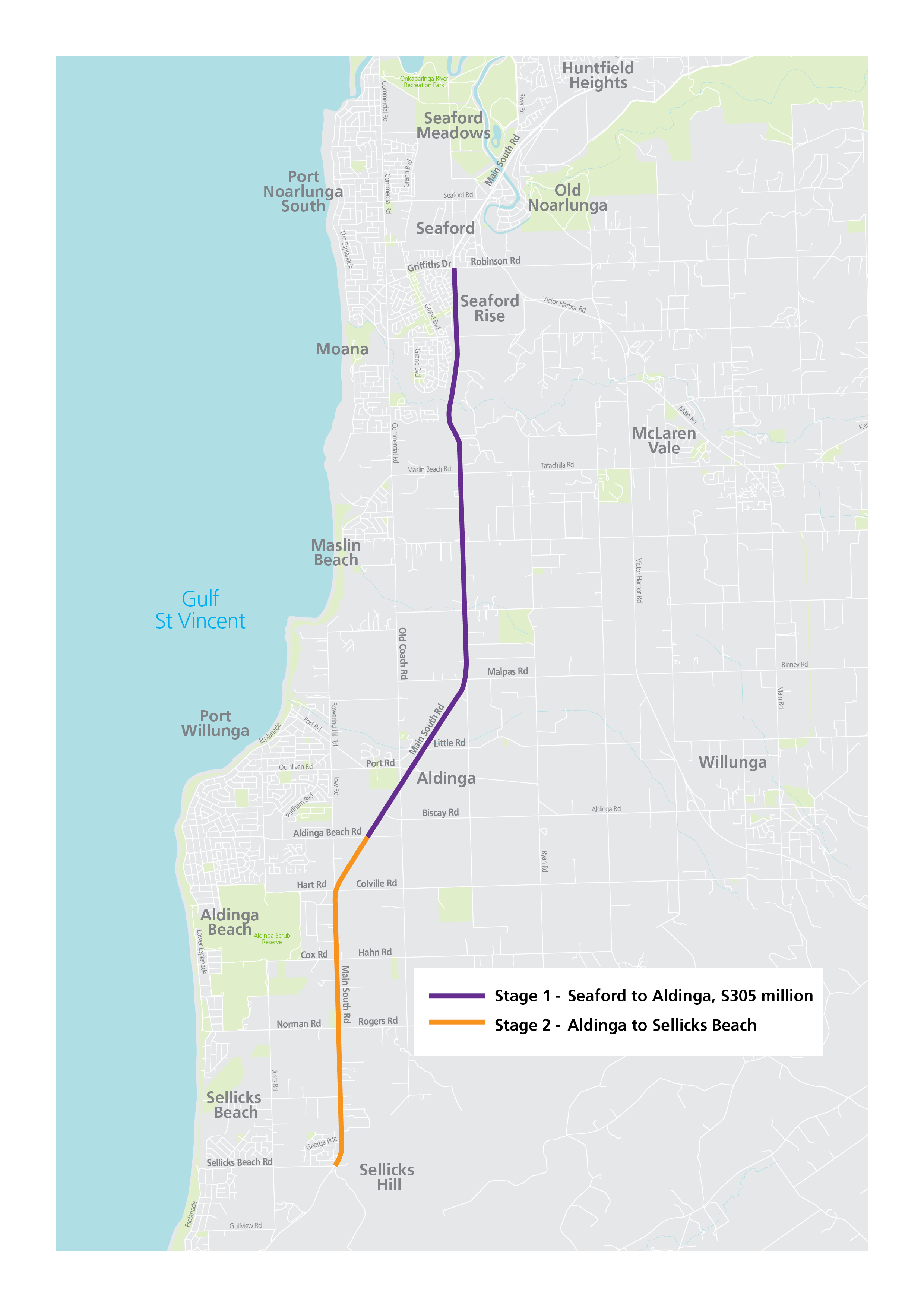 To download a copy of the map click here [PDF,271KB]
Further information
If you have any further enquiries or would like to register your interest in the project to receive updates, please visit the Registration, Feedback and Suggestions page, email dpti.communityrelations@sa.gov.au or telephone 1300 794 880.