Main North Road and Nottage Terrace Intersection Upgrade
About the project
The Australian and South Australian Governments are jointly funding the $19 million upgrade of the Main North Road and Nottage Terrace intersection.
The Australian Government's commitment is part of the Commonwealth Urban Congestion Fund. The South Australian Government's commitment was announced as part of the last State Budget, to bust congestion by upgrading a number of metropolitan intersections. The South Australian Government's Keeping Metro Traffic Moving Report identifies this intersection as priority location for treatments that address road congestion and keep traffic flowing.
The Main North Road and Nottage Terrace intersection is located approximately three kilometres north of Adelaide's Central Business District (CBD). The intersection forms part of the Outer Ring Route, which is a major traffic route. Main North Road is also a high frequency public transport corridor. This intersection plays a vital role in moving traffic from the north-east to the south, bypassing Adelaide's CBD.
The right turn from Main North Road onto Nottage Terrace is a key movement for vehicles travelling from the south and CBD to the north-eastern suburbs.
The existing single right turn lane causes problems due to the inadequate capacity, resulting in long delays for peak traffic including disruptions to vehicles heading north on Main North Road through the intersection.
There is a need for additional capacity on all approaches to the intersection and to provide additional right turn capacity from Main North Road onto Nottage Terrace.
On average more than 66,750 vehicles travel through the intersection each day.
There have been 93 reported crashes at the intersection in the past five years, consisting of 30 minor injury crashes. Approximately 65% of all crashes were rear end crashes.
The Main North Road and Nottage Terrace Intersection Upgrade scope includes:
widening of Main North Road (west side), with the installation of dual right turn lanes onto Nottage Terrace travelling eastbound, two through lanes on Main North Road travelling northbound, and the addition of a priority bus lane through the intersection travelling northbound;
widening of Main North Road (east side) to accommodate the left turn lane onto Nottage Terrace travelling eastbound and the extension of the bus priority lane at the intersection travelling southbound;
widening of Nottage Terrace (south side) to accommodate the extension of the right turn lanes travelling northbound from Nottage Terrace onto Main North Road;
changes to access on Wilson Street, College Avenue and Victoria Avenue to accommodate the proposed treatments;
upgraded pedestrian crossings within the intersection, including new pedestrian crossing lights and ramps;
extension of the existing northbound bicycle lane on Main North Road through the intersection;
pavement construction and surfacing; and
new and upgraded traffic signals, road lighting, line marking, and drainage.
Service relocation works are expected to commence in the third quarter of 2020, with main works expected to begin early next year, weather permitting.
Please note, this is an artist's impression for illustrative purposes only and not a final design. Click here to download the current plan.
Current Intersection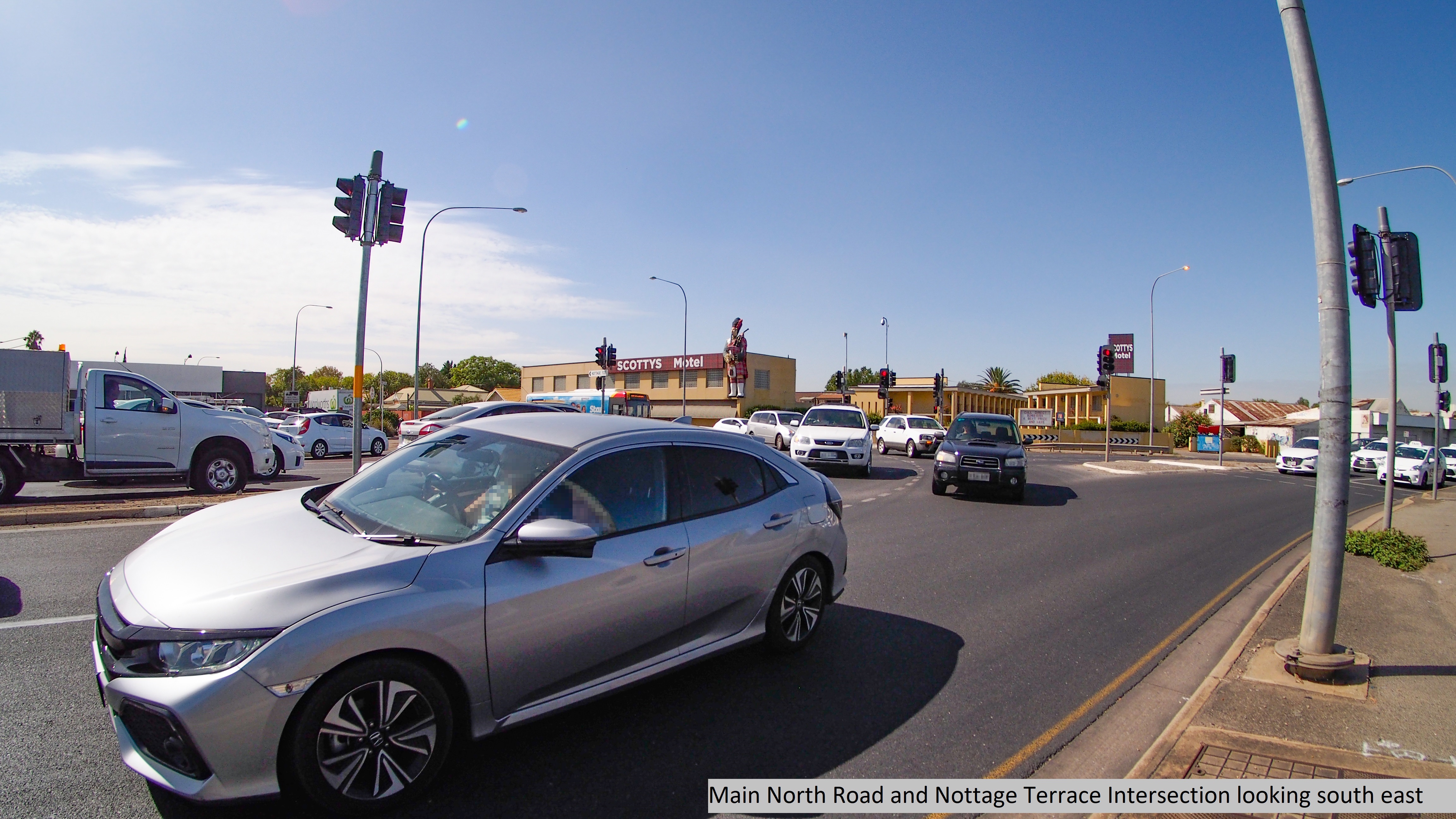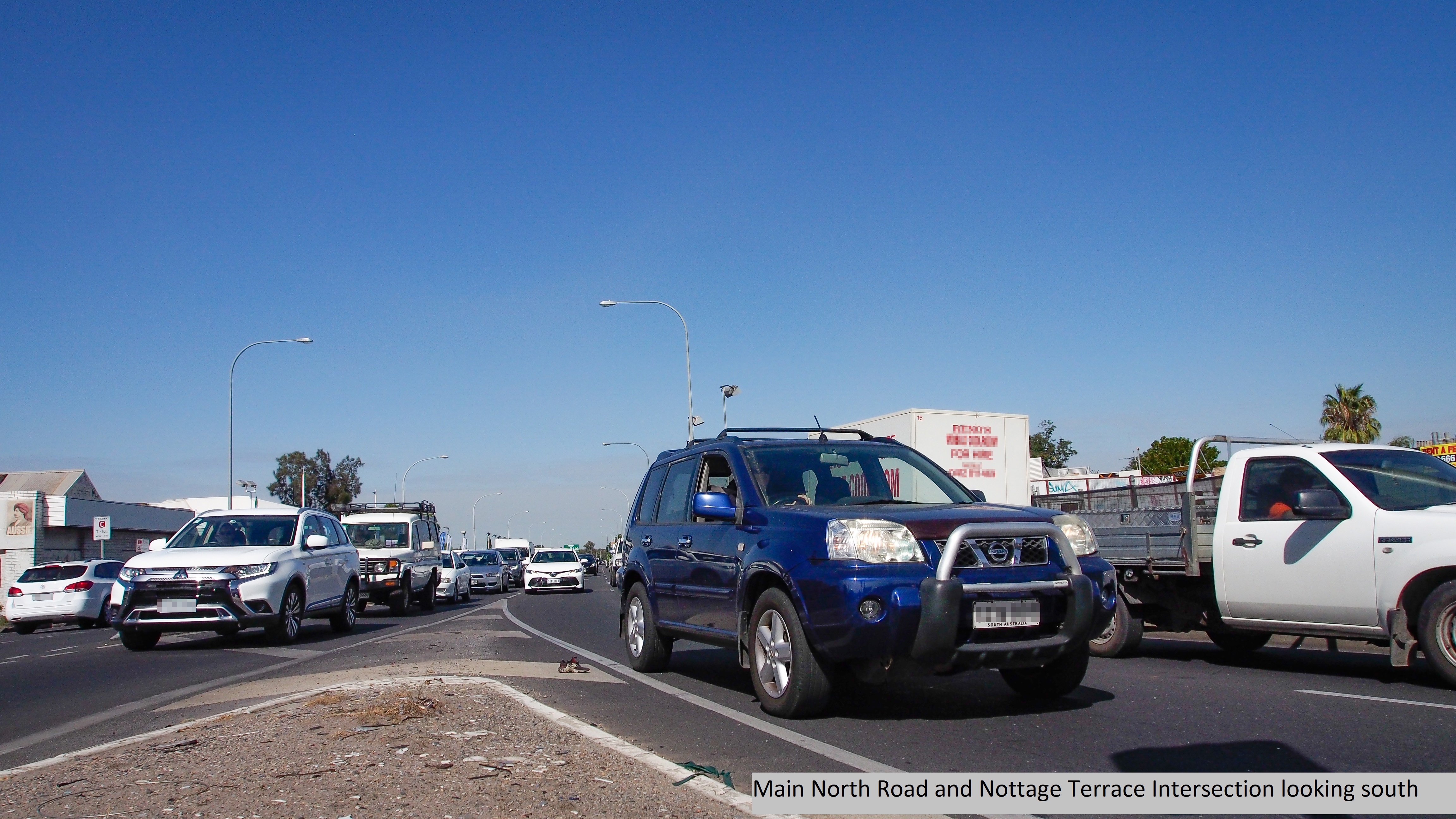 DPTI COVID-19 Response
To help safeguard workers and the community, we have implemented measures to manage the risks of, and our response to, contracting COVID-19.
Measures include, but are not limited to, increased hygiene practices and limiting face-to-face contact.
The project team will provide construction updates and work notifications via social media, letterbox drops, emails and the project website. We are also available to speak via telephone (1300 794 880).
We encourage the community to register for email updates.
There will be no planned community events or information sessions until further notice.
What's next?
Community and stakeholder engagement
Community and stakeholder engagement is important for the successful delivery of this project. We are seeking your feedback on the proposed design of the intersection upgrade.
A concept plan for the upgrade has been prepared and we are inviting the community and stakeholders to provide feedback that will be reviewed and considered by the project team to inform the detailed design.
To view the draft concept design please click here and to read the latest project notification please click here.
We encourage you to provide feedback via the online Registration, Feedback and Suggestions page, by emailing: dpti.communityrelations@sa.gov.au or calling 1300 794 880. Feedback can be provided until COB Friday 8 May.
Early site investigation works
As part of the early design process, site investigation works to identify the location and depth of utility services in the vicinity of the proposed upgrade will commence Monday, 27 April, continuing through to early May.
These works will be undertaken during the day, Monday to Friday, between the hours of 9am and 4pm, weather permitting.
Access for emergency services vehicles, pedestrians and properties will be maintained at all times.
Pedestrians are reminded to keep clear of the work zones, however traffic management will be in place throughout these works to assist with pedestrian and cyclist movements.
Some noise disturbance can be expected at times while these works are completed, however the work will be managed to minimise disturbance to local residents and businesses as much as practically possible.
Please plan ahead, allow extra travel time and take extra care when workers are on site. Observe speed limits, lane restrictions and traffic controllers when travelling through the area.
Publications
Project update and opportunity to provide feedback - April 2020
Latest concept plan - April 2020
Project update and planning study - December 2019
Further information
If you have any further enquiries or would like to register your interest in the project to receive updates, please: