Port Road between Grand Junction Road and Earle Avenue, Cheltenham
Proposed reinstatement of separate parking and full time bike lanes
A dedicated parking lane and full-time bike lane is being installed along Port Road, between Grand Junction Road and Earle Avenue, Cheltenham. This will require the number of vehicle lanes on this section of Port Road to reduce from three lanes in each direction to two. This approach is similar to what has been implemented on Port Road, between Tapleys Hill Road and Old Port Road.
This change, which has been agreed between the Department for Infrastructure and Transport (the Department) and the City of Port Adelaide Enfield, is being made in response to feedback received from residents and businesses about parking availability during peak traffic periods.
An assessment of traffic volumes in the area indicates two lanes in each direction is suitable to accommodate current traffic flow requirements however this will be monitored. Whilst not anticipated to be required, the lane arrangements will revert back to three vehicle lanes, with a bicycle lane operating during the appropriate peak times, if future traffic volumes require it. Council, as the authority responsible for the provision of parking, has agreed with this approach.
Work to install the parking lane and bike lane will be completed as part of the road resurfacing works currently underway along Port Road, between East Avenue and Grand Junction Road. This work is being undertaken by Downer Infrastructure, on behalf of the Department.
This is an artist impression only – for further information, download a copy of this map .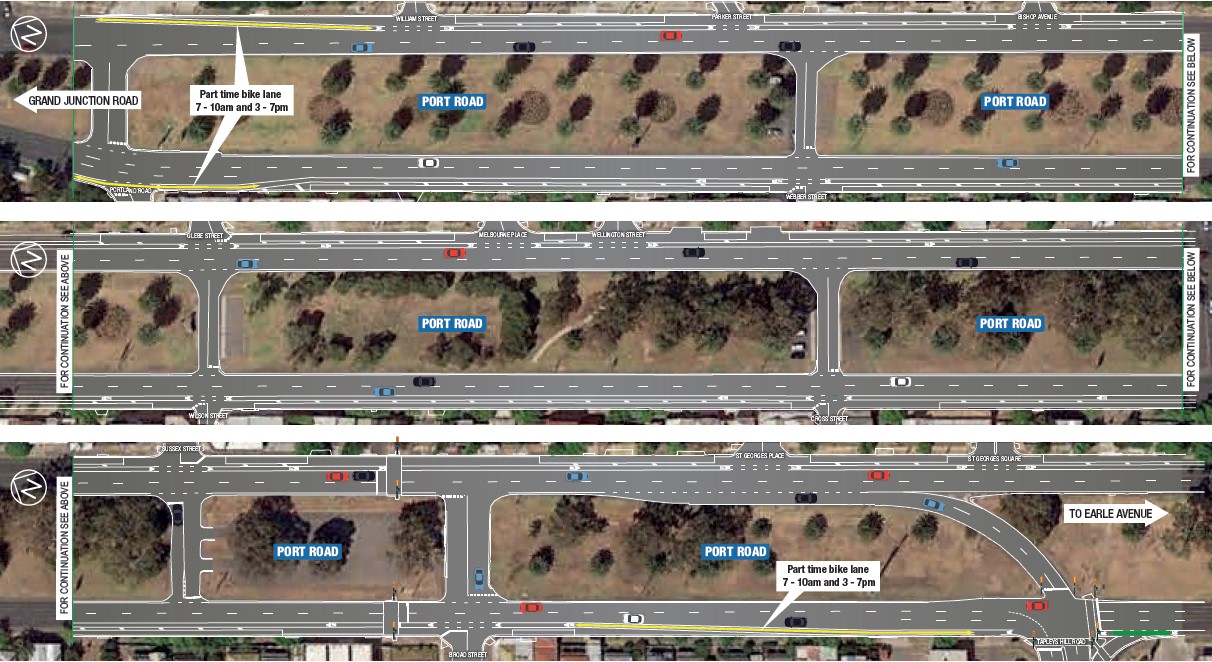 Publications
Installation of separate parking and full-time bike lanes - October 2021
Further information
If you have any comments regarding the above proposal, please contact Chris Dunn, Manager Construction, Design and Transport for City of Port Adelaide and Enfield, on 8405 6733 or via email on chris.dunn@cityofpae.sa.gov.au.
For any general enquires regarding the delivery of the works, please contact the Department's Community Engagement team on 1300 794 880 or via email dit.communityrelations@sa.gov.au