Gorge Road and Silkes Road Junction Upgrade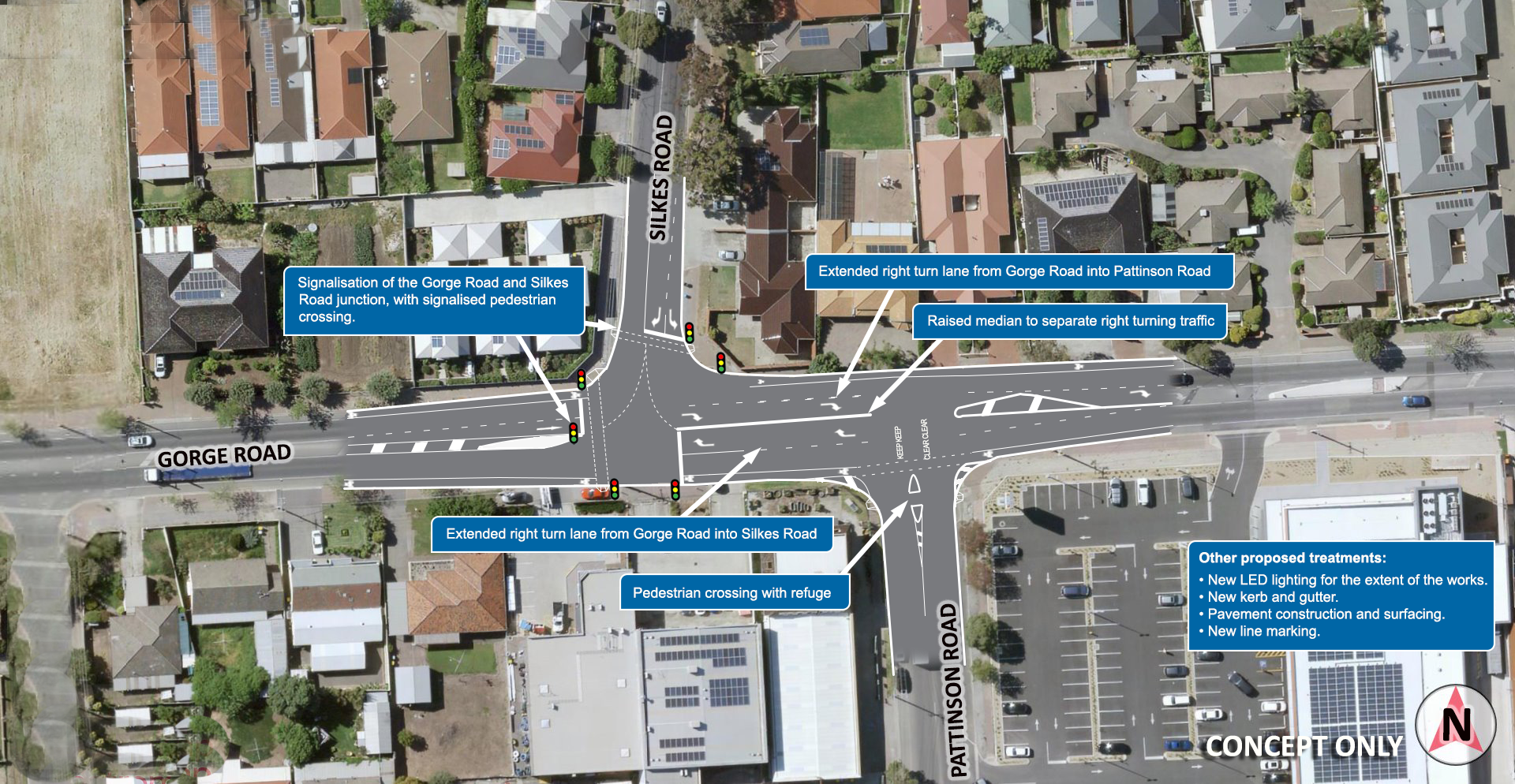 The Department for Infrastructure and Transport (the Department) will be upgrading the Gorge Road junction with Silkes Road to improve traffic flow and safety for all road users.
The Gorge Road and Silkes Road Junction Upgrade project includes the installation of traffic signals at the Gorge Road and Silkes Road Intersection, Paradise. The project will also have benefits for the Gorge Road and Pattinson Road intersection (approximately 35 metres to the east).
This $3.6 million State Government funded Election commitment is being delivered to improve safety particularly for those turning right from Silkes Road onto Gorge Road. In the five year period between 2014 and 2018 inclusive, there were 14 crashes at the junction, with the majority right turn crashes for traffic accessing Gorge Road from Silkes Road.
Together with the installation of traffic lights, the junction upgrade will include:
Full signalisation of pedestrian crossings at the junction of Gorge and Silkes Roads.
Widening along Gorge Road and at the corners of Gorge Road with both Silkes Road and Pattinson Road.
An extension of the right turn lane from Gorge Road into Silkes Road.
An extension of the right turn lane from Gorge Road into Pattison Road.
Installation of a raised median to separate Gorge Road traffic turning right onto Silkes Road from traffic turning right onto Pattinson Road.
Installation of a pedestrian crossing with a refuge across Pattinson Road.
New LED lighting, pavement surfacing and line marking for the extent of the works.
---
Latest News
Site Investigation Works
As part of the design development, site investigation works were undertaken in the vicinity of the intersection during November 2020.
Local Business Support
The Department is committed to working with businesses to minimise impacts that may result from construction activities. As part of the detailed design phase, the Department will engage with local businesses to ensure feedback from business owners is considered, and to understand how to best support the businesses during construction. Support for businesses will include project contact details, information, project notification, promotion and signage.
Community and Stakeholder Engagement
The Department held a community information session on Tuesday, 8 December 2020, at Paradise Primary School. Thank you to all local community members who attended to provide feedback and enable the project team to answer questions.
The project team will continue to liaise with the community as the project develops.
---
Expected project timelines
Project design work will continue in the coming months with early works, including service relocations expected to commence early 2021. Major construction is expected to commence in the second quarter of 2021, with project completion expected late 2021, weather permitting.
---
Contact the project
If you have any further enquiries or would like to register your interest in the project to receive updates, please:
telephone 1300 794 880, or
write to GPO Box 1533, Adelaide SA 5001.