Glen Osmond Road and Fullarton Road Intersection Upgrade
Project update
Download a copy of the latest project update
About the project
The Australian and South Australian Governments have jointly (50:50) committed $35 million to upgrade the Glen Osmond Road and Fullarton Road intersection. The project is expected to support approximately 50 jobs per year, averaged over the life of the construction period.
The Australian Government's commitment is part of the Commonwealth Urban Congestion Fund. The South Australian Government's commitment was announced as part of the 2019-2020 State Budget, to bust congestion by upgrading a number of Metropolitan intersections.
The State Government's contribution addresses recommendations of the Keeping Metro Traffic Moving Report. The report identifies this intersection as a priority location for treatments that address road congestion and keep traffic flowing. This initiative maximises the use of current infrastructure through short to medium term improvements to the network.
The intersection of Glen Osmond Road and Fullarton Road, located approximately three kilometres south of Adelaide's Central Business District (CBD), plays a vital role in moving people and goods from suburbs in the Mitcham Hills, the South Eastern Freeway and suburbs in the vicinity of Unley Road, Belair Road and Portrush Road to Adelaide City and the Inner Ring Route. Both Glen Osmond Road and Fullarton Road are key major traffic routes, primary freight routes and priority public transport corridors.
Glen Osmond Road and Fullarton Road are major traffic routes and primary freight routes linking commuters, businesses and freight to key activity centres. Fullarton Road forms part of the Inner Ring Route, which is a major traffic route. The intersection is also an integral component of Adelaide's Public Transport corridor connecting users from the south-eastern suburbs of Adelaide to the CBD.
An average of approximately 58,000 vehicles per day pass through this intersection (based on a count conducted in September 2019). The intersection is experiencing heavy congestion, with competing traffic movements and network constraints leading to increased travel times and risks to safety.
The existing through lanes on Fullarton Road are causing problems due to inadequate capacity, resulting in long delays during peak periods. There is also a need for additional right turn capacity from Glen Osmond Road onto Fullarton Road.
Once complete, the upgrade will improve travel times and road safety, increase intersection capacity and enhance network reliability.
During the five year period between 2015 and 2019, at the intersection of Glen Osmond Road and Fullarton Road, there were 40 reported crashes at the intersection, consisting of eight minor injury crashes and 32 property damage crashes
Project design work will continue in the coming months. Major construction works are scheduled to commence early 2022, with the project completion expected in late 2022, weather permitting.
Updated concept design
The proposed concept design has been updated following consultation with the community and key stakeholders between 3 December 2020 and 14 June 2021.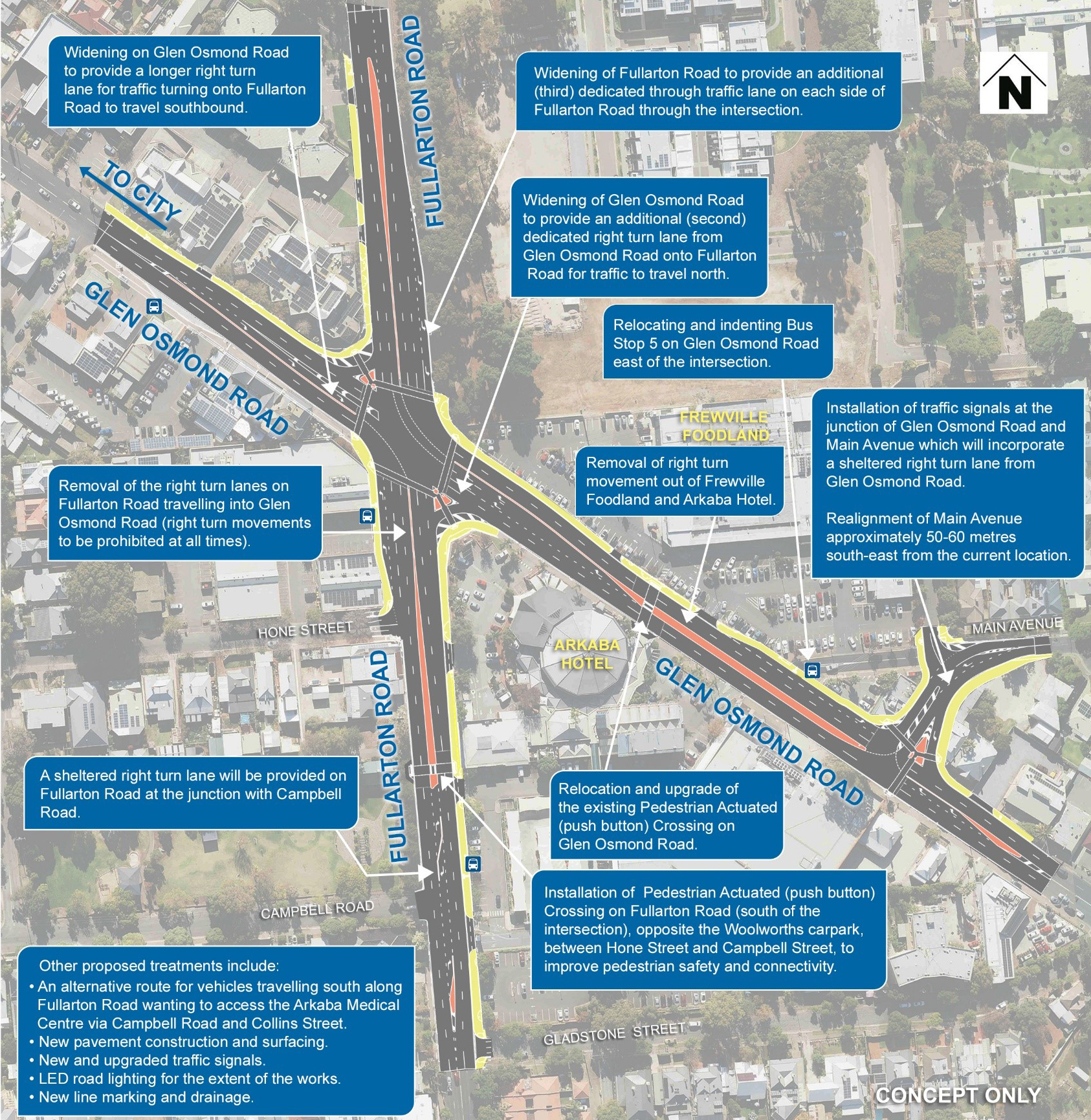 Please note, this is an artist's impression for illustrative purposes only and not a final design.
Download a copy of the current concept plan.
The updated treatments for the Glen Osmond Road and Fullarton Road Intersection Upgrade include :
widening of Fullarton Road to provide an additional (third) dedicated through traffic lane on each side of Fullarton Road through the intersection;
widening on Glen Osmond Road to provide an additional (second) dedicated right turn lane from Glen Osmond Road onto Fullarton Road for traffic travelling northbound, and a longer right turn lane on Glen Osmond Road for traffic turning onto Fullarton Road to travel southbound;
relocating and indenting Bus Stop 5 on Glen Osmond Road east of the intersection;
removal of the right turn lanes on Fullarton Road travelling into Glen Osmond Road (right turn movements to be prohibited at all times);
a sheltered right turn lane will be provided on Fullarton Road at the junction with Campbell Road. This will provide an alternate route for vehicles travelling south along Fullarton Road wanting to access the Arkaba Medical Centre via Campbell Road and Collins Street;
realignment of Main Avenue to relocate the junction at Glen Osmond Road approximately 35 to 40 metres south-east from its current location, which will incorporate a sheltered lane for vehicles turning right from Glen Osmond Road;
pavement construction and surfacing;
new and upgraded traffic signals;
LED road lighting for the extent of the works; and
new line marking and drainage.
The key changes that have been made to the design in response to community feedback include:
Installation of traffic signals at the junction of Glen Osmond Road and Main Avenue with dedicated left turn and right turn lanes on Glen Osmond Road to improve access and safety for local road users.
Relocation and upgrade of the existing Pedestrian Actuated (push button) Crossing on Glen Osmond Road (relocated approximately 25 metres to the west). Retaining this signalised crossing will not impact the overall traffic flows along Glen Osmond Road.
The installation of a Pedestrian Actuated (push button) Crossing on Fullarton Road (south of the intersection), opposite the Arkaba Village Shopping Centre carpark, between Hone Street and Campbell Street, to improve pedestrian safety and connectivity.
Improved drainage
Additional vegetation to be planted along the corridor.
For further information on the project please visit the Frequently Asked Questions (FAQ's) page.
Engagement and community feedback
A big thank you goes to the 41 people that attended the Glen Osmond and Fullarton Road Intersection Upgrade information session held at the Glenunga Hub on Monday, 22 November 2021.
All feedback received from the community is being reviewed by the project team.
The Department will continue to liaise with the community to inform the detailed design for the project and throughout its delivery.
Download a copy of the November 2021 project update which provides a summary of the community feedback received as part of the concept plan consultation between December 2020 and June 2021.
COVID-19 Response
The Department will continue to tailor community engagement opportunities in line with the latest COVID-19 advice from health authorities.
Face-to-face engagement opportunities may be restricted and we will continue to be guided by the advice of health authorities, with the health and safety of our stakeholders always our highest priority.
Engagement with community and industry is crucial and we will facilitate information sessions as much as possible to enable face to face engagement. It is important to assist in managing these events that you register as requested to enable physical distancing as much as possible.
Publications
November 2021 - Project update
November 2021 - Community Information Session
October 2021 - Site Investigation works
July 2021 - Investigation night works
May 2021 - Community Information Session
December 2020 - Updated concept design and seeking feedback
September 2020 - Site Investigation Works
December 2019 - Community Update
Further information
If you have any further enquiries or would like to register your interest in the project to receive updates, please: