Flagstaff Road Upgrade
About the project
The South Australian Government has announced $32.9 million in funding for the upgrade of Flagstaff Road, between Hyland Avenue and Bonneyview Road, by installing a fourth lane to make it a permanent two-way dual carriageway.
Flagstaff Road is a major arterial road used by more than 25,000 motorists every day to commute to other parts of the city. For 800 metres of its overall 3.3 kilometre length between Hyland Avenue and Bonneyview Road, the road consists of only three lanes. Flow on the centre lane is reversed daily to cope with peak-hour traffic in the mornings and evenings. This is a potential cause of confusion for motorists travelling during these periods and remains a safety concern.
The additional lane will be installed as a permanent two-way dual carriageway to reduce traffic congestion, reduce confusion and improve efficiency and safety for motorists travelling on Flagstaff Road. It will provide room to overtake slow-moving traffic and allow emergency vehicles to proceed without being held up by other traffic.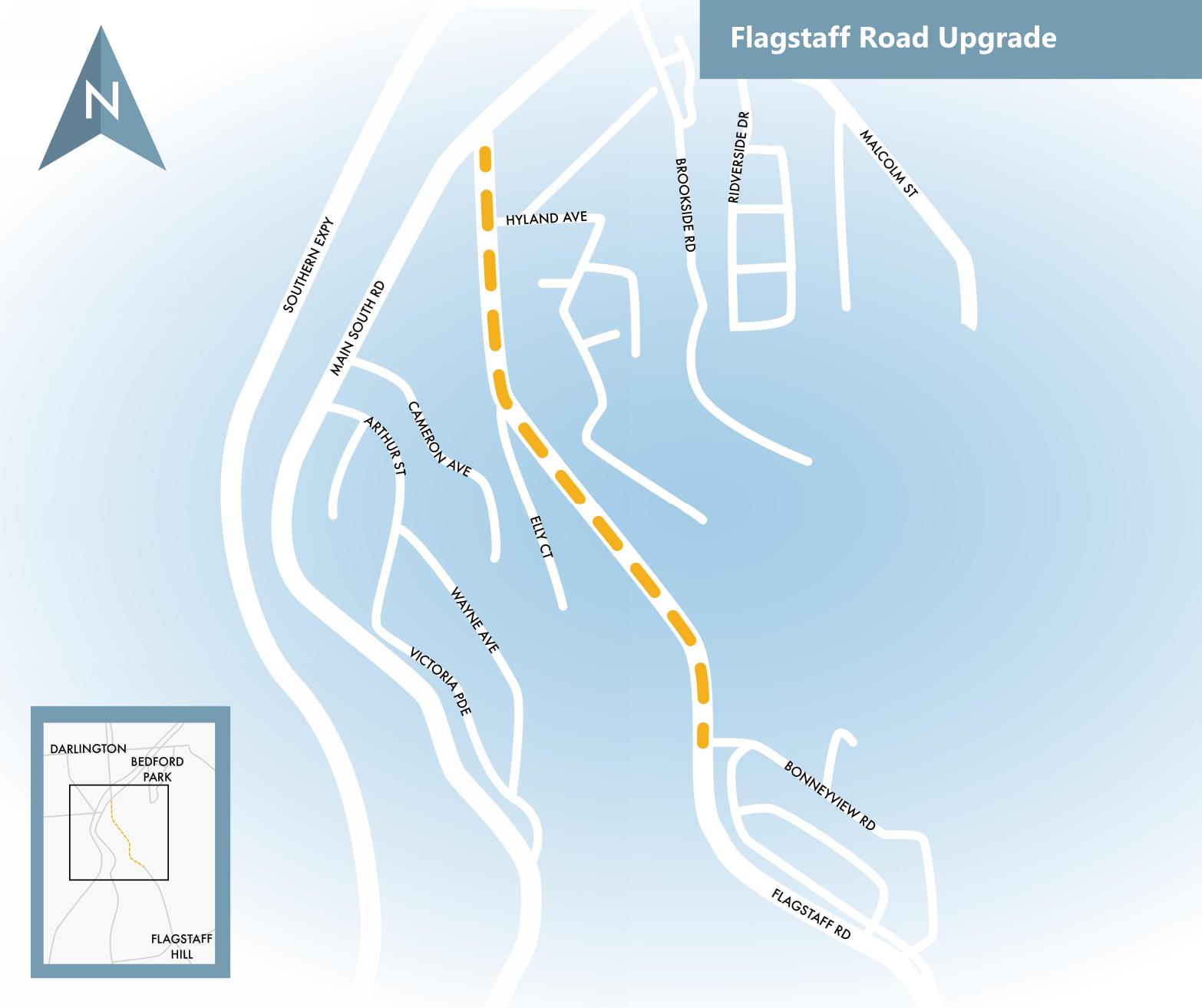 Latest News
To help safeguard the DPTI project team and the community, we have implemented measures to manage the risks of, and our response to, contracting COVID-19.
These include but are not limited to, increased personal hygiene practices and limiting face-to-face contact.
The project team will provide construction updates and work notifications via social media, letterbox drops, emails and the Project website. We are also available to speak via telephone (1300 794 880).
There will be no planned community events or information sessions until further notice.
What's next?
The contract for detailed planning and design work has commenced and will conclude in 2020. Community and stakeholder engagement is an important part of the planning process and as planning progresses consultation with residents, land owners and business owners will continue to occur to help inform and develop the preferred concept and design. Community consultation sessions were recently held at Seaford Central Shopping Centre, McLaren Vale Central Shopping Centre and Aberfoyle Hub Shopping Centre and provided the project team with an opportunity to listen to the voices of the community. As more detailed information about the planning and design work for the project becomes available, the website will be updated.
Further information
If you have any questions or would like to register to receive project updates, please
telephone 1300 794 880 or
write to GPO Box 1533, Adelaide SA 5001.