Ovingham Level Crossing Removal
About the project
The Australian and South Australian Governments have announced $231 million towards the removal of the level crossing at Torrens Road, Ovingham.
The crossing is located near the fringe of the Adelaide CBD on Torrens Road at Ovingham. An average of 23,000 vehicles pass through this level crossing each day.
The boom gates at Torrens Road, Ovingham are down for approximately 22 per cent of the time during the combined AM and PM peak periods.
The junction of Torrens Road and Churchill Road is approximately 100 metres from the level crossing.
Torrens Road crosses both the interstate rail line and the Gawler passenger rail line.
Removal of the level crossing will lead to improved:
travel times for motorists
reliability for buses using Torrens Road
increased freight productivity
safety for all road users (motorists, cyclists and pedestrians) by removing a road-rail crossing point
The project is in detailed planning and consultation stages to determine concept and preferred design. Early works are expected to begin in 2020 following the conclusion of detailed planning and design works.
Click here to view the Ovingham Level Crossing Removal notification.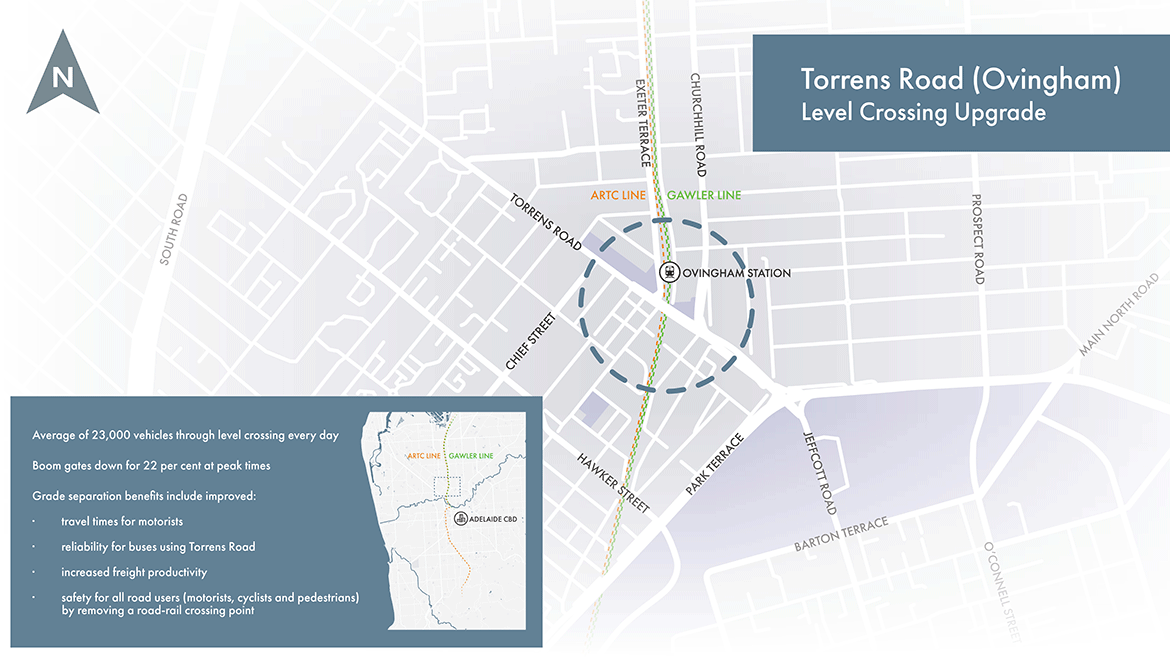 What's next
The contract to undertake the detailed planning and design work that will identify the preferred option for removing the level crossing was awarded to the Public Transport Projects Alliance (PTPA) in August 2019.
Community and stakeholder engagement forms an important part of the planning process. DPTI and PTPA will engage with residents, land owners, business owners and other stakeholders as the preferred option is developed. We encourage you to have your say while the planning process is underway (see our contact details below).
Additionally, please visit the PTPA project website (link below) to access more channels for providing feedback.
Project Website
PTPA has released a website which is the main source of information, updates and works notifications for the Ovingham Level Crossing Removal project.
The website can be found at https://ptpa.com.au/projects/ovinghamcrossing .
Further information
If you have any further enquiries or would like to register your interest in the project to receive updates, please: