Archived Information
Existing Causeway Concerns
Much of the original timber has been replaced by new timber, concrete, steel and recently aluminium supports to stabilise the structure and provide short term safety and access to Granite Island.
At present, approximately 12.5% of the original structure below deck remains. Above deck, including all handrails, all been replaced over the years and is non-original.
In 2019 the Causeway partially collapsed and is currently propped by temporary bracing. The existing structure was assessed to enable repairs and maintain safe access to Granite Island.
A significant number of components of the existing causeway have been assessed as being of poor to failed condition with very advanced deterioration. This poses major safety, maintenance, costs, and access issues.
This includes 98% of the timber piles which would result in no original piles remaining, 100% of the bracing, 30% of crossheads, and 69% of balustrade posts.
The piles on the Granite Island Causeway have multiple issues including weathering/rot, marine borer attack, white ant damage.
Restoration was considered as part of the initial structural review. A multi-criteria analysis was undertaken and it was concluded that restoration of the existing structure is an unfavourable outcome. It would fail to meet current technical and safety standards whilst incurring higher whole of life costs
The reconstruction of the existing structure would also completely shut off access to the island for a prolonged period of approximately eighteen months. This would have a detrimental impact on the local community and tourism in the area.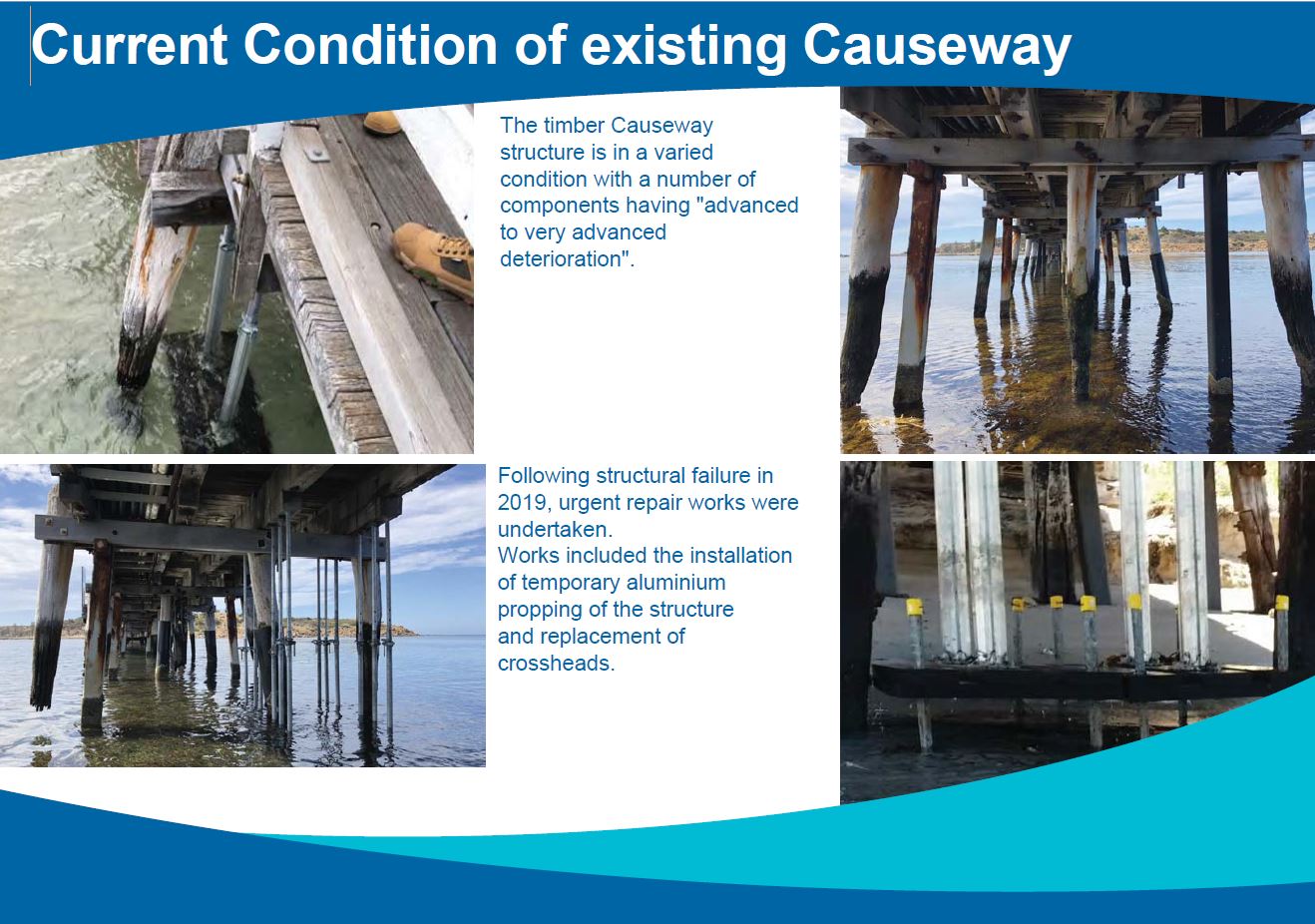 ---

---

---
Project Updates
Procurement
The tender for the delivery of the project was announced and Early Contract Involvement (ECI) was engaged on 26 November 2020.
Progressing with an efficient and constructible design solution in consultation with key stakeholders.
It is expected that the construction contract will be awarded in late February 2021.
Approvals
The Aboriginal Heritage Act 1988 - Section 23 Approval obtained December 2020.
The development application was submitted to the State Commission Assessment Panel (SCAP) in December 2020. This process included a community feedback period from 18 December 2020 to 22 January 2021.
Environment Protection and Biodiversity Conservation Act 1999- EPBC Application with determination received mid-January 2021 with number of conditions to mitigate impacts.
Consultation
The Project continues to consult and collaborate with the Council, local community, key stakeholders and environmental specialists.
Consultation continues with Traditional Owners to ensure the inclusion and recognition of Aboriginal heritage in the design of the new Causeway.
Return to community with Community Information Sessions12 & 14 February 2021
Collaborate feedback from Information Sessions regarding mitigations, opportunities and upcoming Milestones for the project.