Granite Island Causeway Project
---
The Project
The South Australian Government has committed $31.1 million in funding towards the Granite Island Causeway Project to be delivered by the Department of Planning, Transport and Infrastructure (DPTI).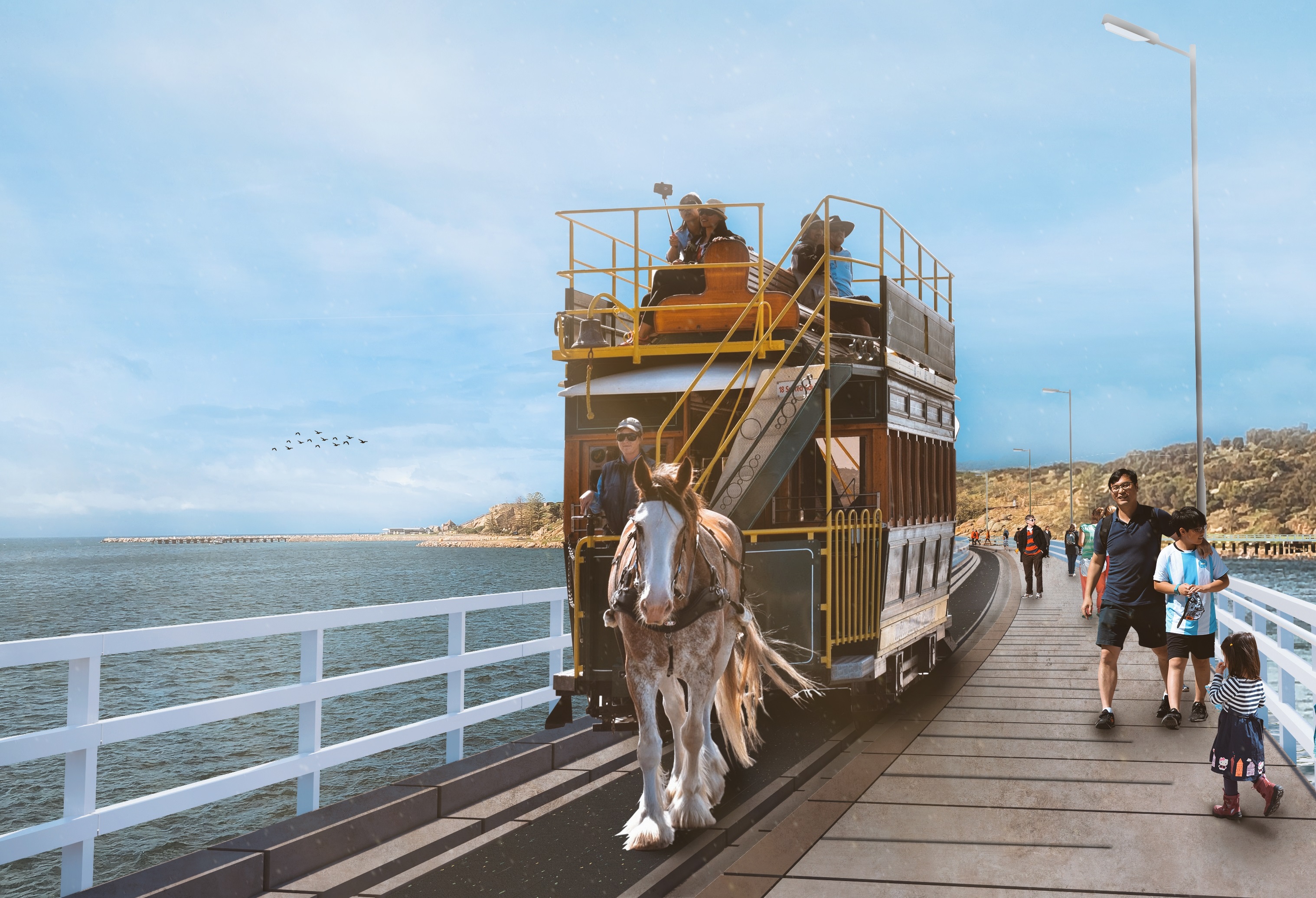 Artist impression for illustration purposes only
The Granite Island Causeway is the only link between Granite Island and the mainland at Victor Harbor and has cultural significance to the traditional owners in the area.
The iconic landmark is a popular tourist attraction servicing Granite Island, tourism attractions and local businesses.
A condition assessment has identified that the original Causeway was approaching the end of its useful life and retaining the existing structure was not considered viable.
The new Granite Island Causeway will be constructed next to the existing Causeway and will continue to deliver and enhance social and economic benefits to the region and provide a long-term solution that is environmentally sensitive.
Works have been undertaken on the existing structure to maintain safety and accessibility until the new Causeway is constructed.
DPTI will continue to work collaboratively with the City of Victor Harbor as we deliver this iconic landmark.
Timing
Construction works on the new Granite Island Causeway are expected to commence in late 2020, weather permitting, with the Causeway expected to be open for public access in late 2021.
All works (including decommissioning of the existing Causeway) are expected to be complete in late 2022, weather permitting.
The project is expected to support an average of 43 full time equivalent jobs per year, over the life of the project.
Community Information Sessions
DPTI held two Community Information Sessions in Victor Harbor in December 2019.
Further information
To find out more about the project, provide feedback or register to receive project information as it becomes available, please click here to register your details or:
Phone: 1300 049 048
Email: dpti.gicauseway@sa.gov.au
DPTI COVID-19 Response
To help safeguard the Granite Island Causeway project team and the wider community, we have implemented measures to manage the risks of, and our response to, contracting COVID-19.
These include but are not limited to, increased hygiene practices and limiting face-to-face contact.
The Granite Island Causeway project team will provide updates and work notifications via letterbox drops, emails and the project website. We are also available to speak via telephone.
We encourage the community to register for email updates by emailing DPTI.gicauseway@sa.gov.au
There will be no planned community events or information sessions until further notice.