Road Safety:
Visitors to SA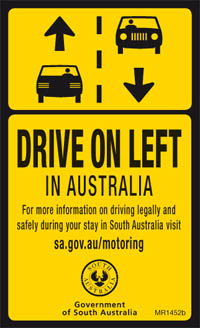 If you are a visitor to South Australia – welcome! We want you to enjoy your stay, but more importantly we want you to stay safe.
Many visitors come to Australia to experience the wide open spaces of the outback. What they may not realise, is how big Australia really is and that the distances between townships vary significantly, with distances between major cities even greater. In this arid continent, the conditions can be very hot and dry, with fuel and food not always available at regular intervals.
Many visitors also come from countries where motorists drive on the right-hand side of the road. In Australia, motorists drive on the left-hand side of the road and this change in driving patterns can cause disorientation for both drivers and pedestrians.
Research suggests that crashes involving overseas visitors may be more severe and are more likely to occur in rural areas. Particular areas of concern include:
driver fatigue
failure to wear seatbelts (this may be related to their own country's law regarding seatbelt use and enforcement of these laws)
overturning of vehicles (perhaps as a result of driving unfamiliar vehicles in unfamiliar conditions)
head on and angle crashes (indicating disorientation, including failure to keep left).
So, if you want to stay safe and get the most from your trip to South Australia, familiarise yourself with the conditions, road rules and any other guidelines you may need to follow.
Remember to plan ahead!
Safe Driving Tips
Plan your trip in advance and make sure you:
get a good night's sleep before departing
stay somewhere overnight if you are on a long journey
share the driving if you can
plan to travel for no longer than eight to ten hours a day
take at least a 15 minute break from driving every 2 hours
take a 20 minute power nap when drowsy
stop at a roadhouse for a coffee break and to stretch
don't drive during hours when you are normally asleep
always carry a current road map.
Overseas visitors are also encouraged to:
obtain a copy of The Driver's Handbook for information about driving in South Australia
the Road Safety website has detailed information on topics such as seatbelt use, speeding, drink and drug driving, fatigue and country driving
contact the Royal Automobile Association (RAA) for advice about travel, accommodation and roadside assistance in South Australia
If heading towards the north of the state, it is recommended that you obtain a copy of the South Australia Outback Road Report or call 1300 361 033 for details on any temporary road closures, restrictions or warnings for outback roads.
Further information is also available from the South Australian Visitor and Travel Centre on 1300 764 227 or for international callers +61 88 303 2220 or visit the South Australian Tourism Commission's website.
FAQs
Why is driver fatigue so important?
Driver fatigue is a serious road safety concern. Australia is a vast country and car trips outside major cities may take several hours or even days. If you are driving long distances, try to have a passenger with a current driver's licence share the driving with you.
Take at least a 15 minute break from driving every two hours. This is important even if you are near your destination, as fatigue crashes can occur near a journey's end.
It is also possible for fatigue crashes to happen on short journeys, or near the start of a trip. The way to avoid these is simply not to drive if you feel tired and know your concentration is not at its best.
When planning each day of travel spend some time calculating how long it will take to drive between destinations and be realistic about how far you can drive in a day.
View Australian Explorer to find out about the distances between some of the major towns, cities and areas within and around South Australia.
To find out about the distances between major interstate centres in Australia, use the following Time & Distance Calculator.
How is country driving different to driving in a metropolitan area?
When driving in rural areas, road conditions can vary from bitumen surfaces to gravel and dirt. Be careful of potholes, soft road edges, narrow bridges and dusty roads. You should always be alert and keep an eye out for any dangerous situations on the horizon. Drive at a speed that suits the conditions.
Australian wildlife and livestock often graze on the roadside and can stray onto the road. Be very careful when driving at sunrise, sunset and at night, when kangaroos and other animals are most active. Driving at night is not recommended. If an animal crosses in front of you reduce speed safely - do not swerve wildly to avoid it.
Who should I contact for roadside assistance?
If you do experience a breakdown in a remote area, remain with the vehicle at all times. Do not attempt to walk to safety. Stay in the shade and keep hydrated.
Roadside assistance in South Australia is offered by the Royal Automobile Association (RAA), with reciprocal rights offered to visitors from other states and some overseas countries. For further information, visit the RAA website.
Call '000' for emergency fire, police and ambulance assistance throughout Australia or if a crime is in progress. From mobile phones it's 112. For non-emergency police attendance call 131 444.
What the Law says
Driving in South Australia – Licensing requirements
Visitors driving in South Australia must observe the licence requirements for this state. You must carry your licence with you at all times when you are driving - if your licence is not in English, you must carry an English translation. There is an on-the-spot fine for not having your licence with you.
Find out more about driver's licence requirements for both long and short stay visitors.
Driving in South Australia – Road Rules
If you wish to drive in Australia, you must also know the rules of the road. Some of these include:
Left-side driving
All vehicles travel on the left side of the road.
Speed limits
Drive at or below the posted speed limit and slow down in wet weather. The Police regularly conduct speed checks using speed cameras, radar and lasers along all types of roads.
The default speed limit in urban areas is 50km/h unless otherwise sign posted.
The speed limit on most Australian highways is 100km/h - only a few roads allow you to travel at a maximum speed of 110km/h.
Heavy penalties apply to drivers exceeding the posted speed limit.
Drink driving
Australia has strict laws on drinking & driving and police actively enforce them. Police are authorised to stop any vehicle and breath test the driver at any time. You must not drive if your blood alcohol concentration is 0.05 or higher. Learners, provisional and probationary drivers, including drivers of heavy vehicles, taxis, chauffeured vehicles or buses must not drive with any alcohol in their system.
There is no safe level of alcohol consumption for competent driving. If you are going to drink any alcohol, the best advice is to plan not to drive.
Severe penalties exist for drink driving.
Drug driving
Australia has strict laws on drugs and driving and police actively enforce them. In South Australia, Police are able to conduct random roadside saliva tests to detect the presence of three illegal drugs including:
THC – the active component in cannabis
Methylamphetamine – also known as speed, ice or crystal meth
3,4-methylenedioxymethamphetamine (MDMA) – also known as ecstasy.
Drivers and riders can be stopped at random by any police officer at any time, anywhere in South Australia, and tested for these three illegal drugs as well as alcohol.
Seat belts
It is a requirement for everyone, including visitors, to use seatbelts at all times. All children must be in an approved child restraint, or properly fastened and adjusted seatbelt, where a child restraint isn't available.
Mobile phones
It is against the law to use a hand-held mobile phone while driving. Drivers caught using a mobile phone while driving will be issued with an 'on the spot' fine and 3 demerit points.
Motorcycles
If you are riding on a motorcycle, moped, motor scooter or bicycle, it is the law that you wear a crash helmet.
Familiarise yourself with the Road Rules in South Australia in more detail.
Penalties
Visitors driving in South Australia are subject to the same penalties for road traffic offences as other drivers.
Further information on the penalties for road traffic offences.
Publications
National Visitor Safety Handbook
Safety Tips – Towing a caravan
Drive on left merchandise order form for businesses (PDF)
Links
Licensing requirements in South Australia
International and interstate motorists
South Australia Outback Road Report
South Australian Tourism Commission