Road Safety:
Seatbelts & child restraints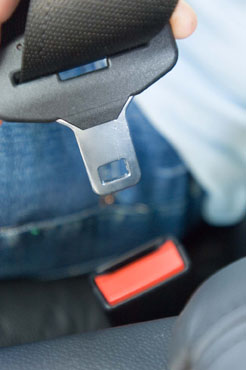 Wearing a seatbelt doubles your chances of surviving a serious crash, yet despite the benefits shown by road safety research time and time again, too many people do not take the time to "buckle up".
Wearing a seatbelt can be a life or death decision – both for you and your passengers. It doesn't matter if you are only travelling a few kilometres because most road crashes happen close to home. It does not make any difference if you are sticking to the posted speed limits or travelling very fast because a crash at 40 kilometres is like falling from a two storey building onto concrete. Passengers not wearing seatbelts can kill or seriously injure others in the car if, for example, the driver has to brake suddenly.
The Government is committed to reducing road trauma in South Australia by introducing size-appropriate child restraint laws, and strict laws and penalties for all vehicle occupants.
Remember - a restraint or seatbelt will not work at all if it hasn't been correctly fastened. Buckle up - and you double your chance of surviving a crash.
What the Law says
By law, drivers must ensure that they and any other passenger in the vehicle is wearing their seatbelt, regardless of their age. However, passengers are still accountable, with both drivers and passengers aged over 16 fined if they fail to wear a seatbelt. Up to 5 demerit points also apply.
New laws for child restraints
Following a decision by the Australian Transport Council, Transport Ministers from around Australia have agreed to amend the Australian Road Rules to introduce a mandatory age-appropriate restraint system for all children travelling in motor vehicles.
The new laws came into effect in South Austalia on 1 July 2010 and enforcement penalties applied from 1 October 2010. View all the facts on South Australia's child restraint laws
Passengers over 16 years
Under the Australian Road Rules, all passengers over 16 years, including the driver, must occupy a seat fitted with a seat belt, unless the seating position is not fitted with a seatbelt and there was no requirement for that seating position to be fitted with a seatbelt at the time of the vehicle's manufacture (i.e. older vehicles). The seat belt must be worn, and the responsibility for wearing it rests with both the driver and the passenger.
Remember - A properly adjusted seat belt passes over the pelvis and hips, does not touch the wearer's head or neck and is adjusted so that the buckle is at or below the hip. Make sure it is securely fastened.
Passengers under 16 years
New child restraint laws, approved by the National Transport Council in 2008, were adopted in South Australia on 1 July 2010.
These new laws require:
Infants up to six months old to be restrained in a rearward facing infant restraint.
Children aged between six months and up to four years old to be seated in either a rearward or forward facing child safety seat.
Children from the age of four and up to seven years old to be seated in a forward facing child safety seat or booster seat (restrained by a correctly adjusted seatbelt or child safety harness).
Children from the age of seven years to be seated in a booster with seatbelt or harness or a correctly fitted and adjusted adult seatbelt.
Children under the age of four to be seated in the rear of the vehicle (where the vehicle has two or more rows of seats).
Children from the age of four and up to seven years to be permitted in the front of the vehicle if all rear seats are already occupied by children up to the same age (where the vehicle has two or more rows of seats).
If a child is too tall or heavy for the restraint specified for their age they should use the restraint specified for the next age group. If a child is also too small to move into the restraint approved for their age they should remain in the restraint specified for the previous age group.
The responsibility for children under 16 years using restraints correctly rests with the driver.
Exceptions to wearing seatbelts
Seatbelts do not have to be worn by people if their doctor has written a letter stating that the person doesn't have to wear a seatbelt on the ground of physical disability or any medical ground. The person must have the letter with her or him, or a seatbelt must be worn.
The statistics
During 2008-2012, on average, 36% of all drivers and passengers killed and 9% of vehicle occupants seriously injured are not wearing a seatbelt at the time of the crash. Some of these are children.
Statistics show that on average 40 child passengers aged 0-16 years are killed or seriously injured in South Australia each year. Nearly one third of these are aged 0-7 years.
Research also suggests that children are being moved into bigger seats – or are prematurely graduating to seatbelts alone – when this is not appropriate for their size. As a result, those children are exposed to a greater risk of injury. A child that is properly secured in an approved child restraint is less likely to be injured or killed in a car crash than one who is not.
Penalties
The following table details the penalties for drivers now that they are responsible for ensuring that their adult passengers – aged 16 and over – are properly restrained, in the same way they are currently responsible for passengers under 16.
Passengers are still accountable, with both drivers and passengers aged over 16 fined if they fail to wear a seatbelt. It is an offence for passengers to travel in the back of utes, panel vans, trailers and caravans. Animals are required to be suitably restrained.
| Offence | Penalty |
| --- | --- |
| Driver not wearing a seatbelt | 'On the spot' fine; and 3 demerit points |
| Driver penalty for one passenger not wearing a seatbelt | 'On the spot' fine; and 3 demerit points |
| Driver penalty for more than one passenger not wearing a seatbelt | 'On the spot' fine; and 5 demerit points |
| Passenger not wearing a seatbelt (16 years or older). Both driver and passenger will be fined. | 'On the spot' fine; and 3 demerit points |
More information
Seatbelt and child restraint laws in South Australia
Best practice guidelines for the safe restraint of children travelling in motor vehicles