Road Safety:
Safe Systems Approach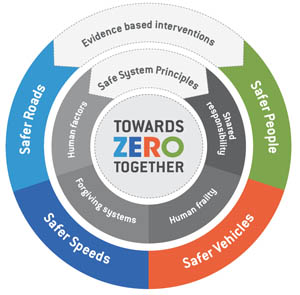 The Safe System approach to road safety is built on four key principles:
Human factors

Human frailty

Forgiving systems

Shared responsibility.
South Australia's Road Safety Action Plan 2011 & 2012 uses the Safe System principles to outline these four priority areas.
ARRB Group is a recognised leader and advisor in developing the Safe System vision for road transport. ARRB Group works together with road authorities to implement the vision's aim of no death and serious injury on Australian and New Zealand road networks.