Road Safety:
SA Level Crossing Safety Strategy and Action Plan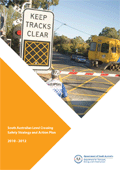 The South Australian Level Crossing Safety Strategy and Action Plan 2010-2012 was released in March 2010 to manage the safety risks at South Australian railway level crossings.
Safety at railway level crossings is an important issue for road users, train passengers, train drivers and their crew. Risks at level crossings exist for all road users including motorists, motorcyclists, heavy vehicles drivers and pedestrians of all ages.
Level crossing crashes have the potential to be catastrophic and the state strategy aims to reduce the number, cost and trauma of crashes (and near-misses) at all level crossings by the most cost-effective means.
Level crossing safety actions through to 2012 include:
Rolling out red-light camera technology at selected rail level crossings.
Continuing to roll out boom gates and flashing lights at level crossings.
Working with local councils to rationalise and close selected high risk crossings.
Funding a Level Crossing Black Spot program in partnership with local councils.
Continuing the installation of automated pedestrian gates and the More than One Train warning system at suburban pedestrian rail crossings.
Supporting education campaigns including targeted enforcement campaigns by South Australia Police to discourage bad behaviours at level crossings.
The SA Level Crossing Safety Strategy has been endorsed by the State Level Crossing Strategy Advisory Committee comprising of representatives from state and local government, the RAA and both the road and rail transport industry.
The State Strategy aligns with the activities outlined in the National Level Crossing Safety Strategy 2010-2020.